Archive for the 'Debjani Konar' Category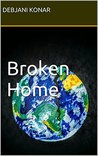 Broken Home
by
Debjani Konar
My rating:
3 of 5 stars
An story that has come out of emotions stirred due to the sight of greenery seen as the author was driving along a concrete highway in the States. She was stirred to the core by the depleting greenery from the face of the earth and the greyness that is spreading through.
The book talks about reaching a state where earth is no longer liveable and is life struggles to continue in a bleak desolate landscape brought about by enormous tsunamis. All caused because of human greed for money and power.
A group of humans go to another planet and try to learn to live in the new planet. The new plant is an utopian land where there is no pollution, no commerce, no verbal communication and the living beings there have minimal senses.
A relevant topic to be written on given the state of affairs of our world.